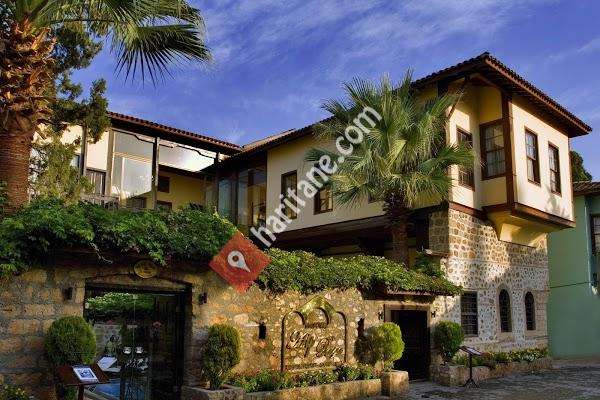 Hakkında
Official Facebook Page– Alp Pasha; a collection of charming and romantic boutique hotels in Kaleici (Old Town), the historic quarter of Antalya.
Hikayemiz
Situated in Antalya's historic quarter, Alp Paşa is a charming hotel in Antalya decorated with all the historical and mystical features of Old City of Antalya "Kaleiçi". Our hotel mansions in Ottoman-style date from the middle 18th and early 19th century and were built for wealthy merchants to receive their visitors.

At these stylish and characteristic residences of our charming hotel in Antalya, our guests can relax with the Turkish bath and bubble massage tha we offer. Besides, our hotel in Kaleici also has a private open courtyard with a mosaic terrace, swimming pool and open air museum.

Each room has its own character and include comfortable bedding and elegant furnishings. They all have air conditioning and private bathrooms. Rooms are available with jacuzzi bathtubs. They include a work desk and satellite Plasma TV. Guests can also relax at our charming hotel in Kaleici, Antalya, with a Turkish bath or schedule a massage treatment.

Alp Pasa's restaurant features a cozy fireplace and offers a varied buffet each day. During the summer, guests can dine on the poolside terrace. Guests can also enjoy snacks and drinks at the pool restaurant and the pool bar. Our hotel in Antalya old town offers daily breakfast and dinner buffets, with a pianist some days. Alp Pasa has two fine dining A La Carte retaurants called Alp Pasa and Vanilla, offering indoor and outdoor dining, serving French and Turkish cuisine and vegetarian dishes made from fresh ingredients.

Our charming hotel in Antalya is only half a mile from Antalya City Museum, one mile from Konyaalti Beach and is a 5-minute walk from Mermerli Beach. Alp Pasa hotel in Kaleici is 100 mt from the Broken Minaret and Hadrian's Gate. Antalya Airport is less than 6 miles away. Alp Paşa Hotel also offers 24-hour front desk service and free on-site private parking.
Adres: Hesapcı Sok. 30, Barbaros Mah., Kaleici (Old Town), 07100 Antalya/Muratpaşa/Antalya, Türkiye
Telefon:
(0242) 247 56 76
ilgili aramalar:
alp paşa hotel antalya telefon, alp paşa boutique hotel iletişim, alp paşa restaurant kaleiçi, antalya kaleiçi otelleri, alp paşa hotel yorumlar, antalya alp paşa hotel adres, alp paşa hotel şikayet, alp paşa boutique hotel telefon